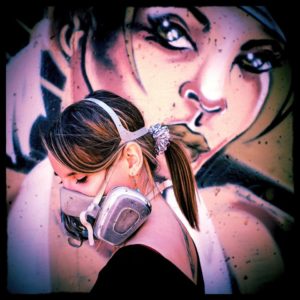 EN:                                                                                                                                                          
Born in the late 1980s, Wüna is a graffiti artist from France settled in Montreal since 2012. She started making graffiti in 2001 when she discovered it on her city's skate park walls. She immediately gets passionate about hip hop culture and the energy and values that it conveys.
As a self-taught woman she started by painting characters but moved step by step to creating lettering in order to extend her skills and master completely all the aspects of her art. Wüna is part of several crews and artist collectives, including the famous international crew Few & Far.
Wüna has taken part in several documentaries and books about graffiti art and she regularly hosts workshops. Her latest collaborations have rapidly promoted her into the universe of graphic design and illustration, and she makes unique graphic designs for many brands.  Today she allies as often as she combines her passion for graffiti with her love of travel by going abroad to many jams and events around the world
FR:                                                                                                                                                          
Née à la fin des années 80, Wüna est une graffeuse d'origine française installée à Montréal depuis 2012. Elle commence à pratiquer le graffiti en 2001, lorsqu'elle le découvre sur les murs du skate park de sa ville.  Elle se passionne alors immédiatement pour la culture Hip Hop, attirée par l'énergie et les valeurs qui se dégagent de ce mouvement.
Autodidacte, elle commence par peindre des personnages, mais se met petit à petit à faire des lettrages afin d'être complète et maîtriser entièrement tous les aspects de son art. Wüna fait partie de plusieurs crews et collectifs d'artistes, notamment le collectif international Few & Far.
Wüna a participé à plusieurs documentaires et livres sur le graffiti. Diplômée en médiation culturelle, elle intervient régulièrement dans  des conférences et anime des ateliers auprès de différents publics. Ses dernières collaborations la propulsent dans l'univers du graphisme et de l'illustration, par le biais de différentes entreprises pour qui elle réalise des designs uniques. Aujourd'hui dès qu'elle le peut, elle allie sa passion pour le graffiti à celle des voyages en participant à de nombreux festivals et événements aux quatre coins du monde.